Susan A.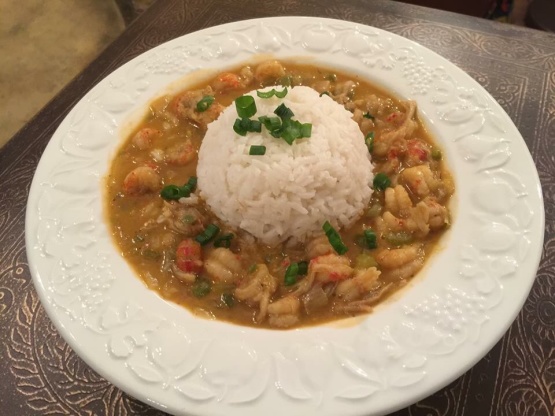 There are hundreds of recipes for Crawfish Etouffee. This is the old fashion way to cook Crawfish Etouffee. Very simple yet very flavorful.
Being born and raised in Louisiana and on Cajun Cuisine, it takes a really good recipe for me to write a review. Talk about easy. I cheated and bought the trilogy of vegetables so I didn't have to do the chopping so from start to finish, this recipe took only about 30 minutes. Rice was cooking while I was preparing this. And, it was even more delicious than it was easy. I used leftover crawfish from our Good Friday crawfish boil so I eased up on the seasonings, but I will use this over and over again. Next, I think I will try it with shrimp.
In dutch oven melt butter over medium heat.
Add onions, bell pepper, celery and garlic.
Saute vegetables until soft, about 30 to 45 minutes.
Add Crawfish tails and seasonings.
Cover and simmer for 10 minutes.
Mix flour in water, stirring to make a smooth liquid.
Add to crawfish mixture, cover and simmer for 10 more minutes.
Serve on hot rice.