Easy Corned Beef for Deli Sandwiches

A fool-proof way to keep your corned beef from crumbling when you slice it! Wrapping it tightly when hot is the secret. Now you can cook corned beef that makes those lovely sandwich slices you get from the deli. It slices well with a sharp knife, but for perfection, use an electric slicing machine. Great for Reuben sandwiches!
1 can beer, any kind
1 tablespoon pickling spices
other seasoning, of your choice,such as a little vinegar,rosemary sprig,hot peppers
Directions
Remove brisket from vacuum packaging.
Remove visible outside fat and wash.
Place in crockpot.
Add pickling spices and the beer.
Cook on High for about 6-8 hours.
(You may wish to turn the corned beef once).
Continue cooking until beef is tender but not falling apart.
Total time will depend on size of roast.
Gently remove corned beef from crockpot, keeping it in one piece if possible.
If any chunk of beef falls off, just place the 2 pieces together before wrapping as instructed below.
Scrape off any outside fat, using a very sharp knife.
TO KEEP BEEF FROM CRUMBLING DURING SLICING: Immediately wrap the hot corned beef in plastic wrap, wrapping it as tightly ACROSS THE GRAIN as possible.
Snugly fold ends of plastic to completely encase beef.
The heat from the beef may/will"seal" the plastic wrap and keep corned beef moist.
Put wrapped beef in a Zip-lock bag and REFRIGEATE.
When ready to serve, thinly slice across the grain with a sharp knife (not serrated) or an electric slicing machine.
NOTE: I usually turn the crockpot ON when I go to bed, and the corned beef is ready when I wake up.
I wrap and refrigerate it, and it's perfect for lunch-time sandwiches.
Reviews
Most Helpful
Works like a champ! Thanks for the great technique. The corned beef sliced perfectly.

Made this yesterday...wasn't exactly what I hoped for. Slicing Corned Beef has never been an a problem with me, but cooking it in a crockpot has been. SOMEHOW the taste loses something, when cooked in a crockpot! Doubt if I'd make this again...sorry.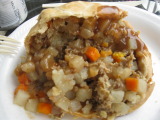 This method does work very well and I had no trouble at all slicing the meat. I think I would not cook as long next time (maybe 5 hours) or perhaps the brisket I used was a little small.