diner524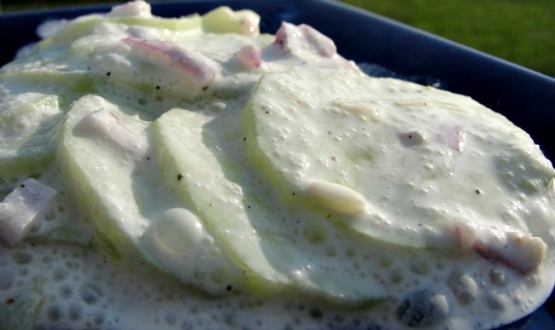 I adapted this from a recipe from the June 2011 issue of the Food Network Magazine; as I only had about half the ingredients I had to improvise. Glad I did, it's a tasty and cooling side dish I'll enjoy during our Cabo hot season. Hope someone out there enjoys it.
Loved the creamy version of this salad!!! I made one change, by adding a splash of apple cider vinegar, and it was so good!!! I will be making it this way more often!! I am a lover of salt, so I did make it as written by draining off the salt water and then still added the salt with the sour cream dressing, very salty. Next time will rinse the cucumbers from the initial salting as you stated in your description. Thanks again for another wonderful recipe. Made for 2013 Spring PAC event.
Peel the cucumber and slice very thin. Put in a bowl and toss with the salt; chill one hour. Drain (I don't do a lot of salt and in the future will rinse), then pat dry. Return to bowl and stir in the Crema and onion, season with fresh ground pepper. Chill and serve.
The original recipe called for re-constituted dried onion flakes (ugh) and pickled cherry peppers, which I didn't have. It also called for some sugar, but the Mexican crema was perfectly sweet enough for me. Should I ever find the pickled peppers, though, I'd like to try adding them.