This is a quick put-together frosting that I found in a cookie cookbook. You don't have to wait for the butter or margarine to soften before you make it so you can make it on a whim and it spreads on nice and thick without that store bought taste. I also like the way you don't have to wait all night for it to harden up. Easy ingredients makes it a real keeper!
Directions
Place all ingredients in a mixing bowl.
Beat on medium to high speed until all is combined and fluffy.
You're done!
Reviews
Most Helpful
Very simple had all ingredients and work perfect on my cookies.. just pour in the milk to the texture you want the frosting to be. I ran out vanilla flavor so I sub with banana flavor in it. Taste amazing. My 6 year had a Blast decorating. Keeper for life.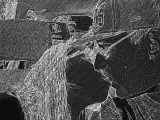 Tasted good, but the ingredients separated in the bowl and frosting was very runny, I added more powdered sugar but it did not help. And once the frosting was on the cookie it looked "unblended". I think I am gonna move on to a different frosting recipe.
Perfect. Added 2-3 tbs of cream cheese because I needed to use it up. Delicious! Thanks!