Asha1126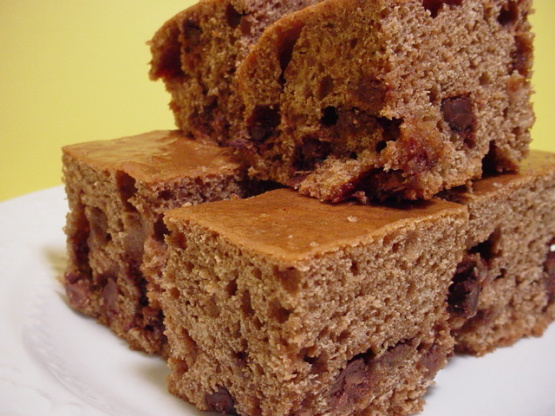 I make these often it's a wonderful easy recipe and they are very moist! Serving size is only estimated depending on the size you cut the squares. You can even add in nuts in place of the chocolate chips or use about 6 ounces each!

very good.easy to whip together.used mini choc chips as thats all i had and used 6oz.Used two square foil baking tins. This was good value for money as I got two good square cakes. Very nice texture little dry around edges but really moist with a lovely delicate mocha cinnamon taste. Children loved them.Hope the caffeine does not make them hyper!!
Set oven to 350 degrees.
Grease a large cookie sheet.
In a bowl combine oil, sugar and eggs, beat until well combined.
In another bowl, combine dry ingredients, except chocolate chips, then add to the oil/sugar mixture; mix well.
Add the vanilla and coffee; mix until combined.
Stir in chocolate chips.
Spread on a cookie sheet.
Bake for about 35 minutes or until bars tests done.
Cool and cut into squares.
Delicious!