mianbao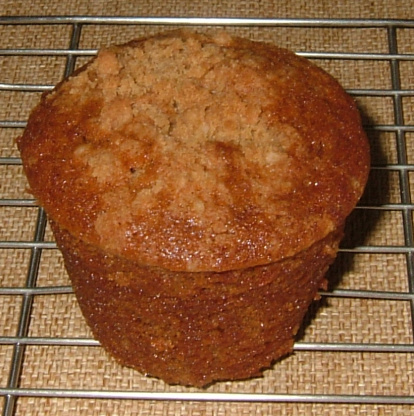 This makes a light, pleasantly spicy cake, nice for snacking. Perfect to have with a cup of coffee. Not having a 7 by 10-inch pan, I used a square 8-inch pan, and baked a small amount of batter separately in a muffin cup, also. I don't know whether it was the pan's shape or my oven, but it did take about one hour for the cake in the square pan to bake. Thank you for sharing this recipe with us.
Pour oil over the brown sugar.
Sift flour, salt, granulated sugar, nutmeg, and cinnamon in a large bowl.
Stir in the brown sugar mixture.
Reserve 1/2 cup of the combined mixture and set aside for topping.
Add buttermilk, soda, egg and baking powder to the remaining brown sugar/flour mixture.
Combine well.
Pour into a greased 7 x 10 inch pan.
Sprinkle with the reserved topping mixture and the nuts.
Bake for 30 minutes at 350 degrees preheated oven.
Cut into squares, serve warm, or at room temp.
with whipped cream if desired.