Lucky13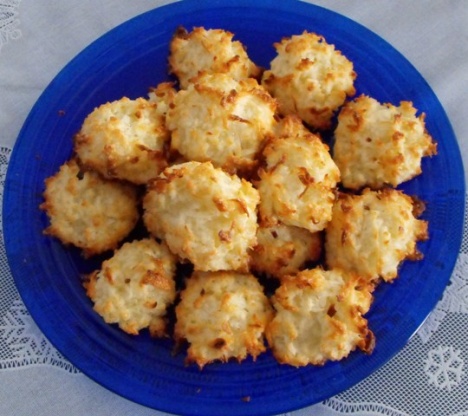 This recipe is so easy and so delicious. The macaroons come out nice and chewy.

Chose this recipe after looking at loads on internet. This is so easy and so perfect. I also drizzled chocolate on them - yummy. They were intended for the grandchildren tomorrow but I may have to make another batch. In fact they are so quick and easy the grandchildren could do them for me!
1 1⁄3 cups coconut (Bakers angel flake works best)
1⁄3 cup sugar

3

tablespoons flour
1⁄8 teaspoon salt (optional)

2

egg whites
1⁄2 teaspoon almond extract
Combine sugar, flour, salt and coconut in a mixing bowl. Stir slightly so all dry ingredients are nicely blended. Stir in egg whites and almond extract. Mix well. Drop from teaspoon on lightly greased baking sheets. Bake at 325 degrees for 15 to 20 minutes or until the edges of the cookies are golden brown. Remove cookies from cookie sheet immediately after baking.