Easy Coconut Macaroon Cake
luvcookn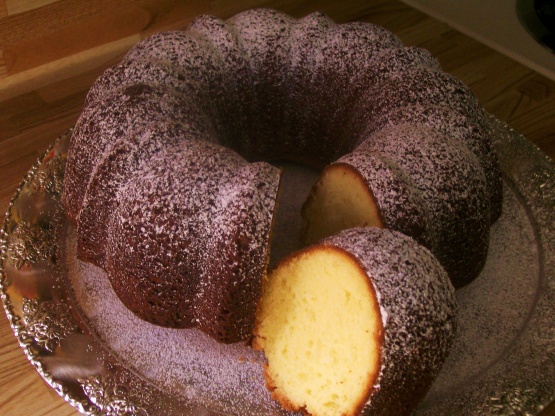 Very delicious and moist. One of my mother's recipes!

This is a very good cake. I found it to be a little bit lighter than a pound cake but that's a good thing. It was hard to wait for it to cool. The only things I would change are 1. include some sort of topping ( frosting or maybe a coconut rum infused glaze ) and I would add more coconut BUT I am a coconut junkie and always add more than any recipe calls for. This is a keeper!
Sift dry ingredients together.
In large bowl, with electric mixer, beat butter until creamy.
Gradually add sugar, beating until light and fluffy.
With mixer on "cream", add eggs, one at a time, beating well after each addition.
Add almond extract.
Stir in coconut.
Turn into greased 10" tube pan or bundt pan.
Bake one hour at 325.
Cool 30 min before removing from pan.
This cake can be frozen.