MrsBritt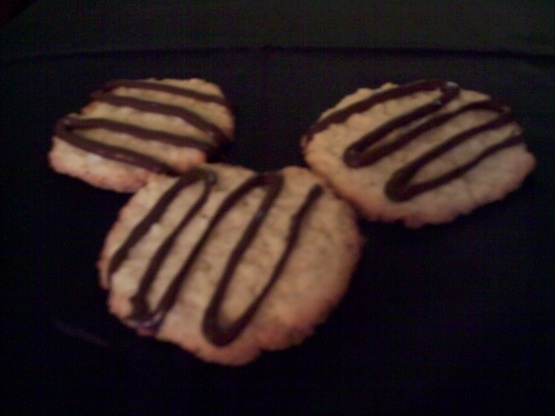 If you like coconut, you'll love these cookies! After making them the first time, they were established as a favorite. Very easy to make, and even easier to eat. The recipe comes from Nick Malgieri's book Cookies Unlimited.

Absolutely delish! I covered mine with piped chocolate and that added a needed chocolate fix I had a craving for, but the cookies were fantastic on their own! I absolutely loved these, and they're now a family favorite; even among my boyfriend, who doesn't really like coconut! Thanks for a keeper :)
Preheat oven to 375 degrees.
In the food processor, place the coconut and pulse for 1-second intervals about a dozen times.
The object it to make the coconut smaller but not to grind it too fine.
In a bowl, mix the flour with the baking powder and salt.
Combine butter and sugar and beat on medium speed for about 30 seconds, then beat in the vanilla, then the egg.
Beat until smooth again.
Lower the speed and beat in the flour mixture, then the coconut.
Drop teaspoonfuls of the batter on parchment or foil lined cookie sheets about 2-3 inches apart.
Bake about 12-15 minutes, until the cookies have spread and are golden around the edges.
Slide papers from the pans onto cooling racks.
After the cookies have cooled, remove from the paper.
Enjoy!