PaulaG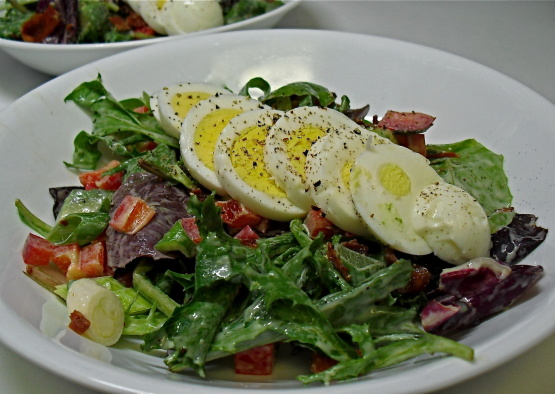 Being a college student, you don't have much time to do anything besides do homework and research, so this is a quick and easy meal that I often whip up when my time is limited. The dressing is more or less an approximation, so depending on how tangy or sweet you want it, adjust the amount of mustard and sweetener. A great time saver is to boil several eggs at once, so you have them on hand in case you want to make another salad the next day, or more for company. (I like my eggs nice and cold, so that's why I have them boiled a day ahead, but if you don't care it doesn't make a difference.)
4

pieces bacon

1

egg

2 -3

leaves romaine lettuce, chopped
1⁄2 yellow and red bell pepper, chopped

1

green onion, chopped

1

ripe avocado, sliced

Dressing

1 -2

tablespoon grainy mustard (not the plain yellow stuff)

1

tablespoon honey or 1 tablespoon agave nectar
1⁄4 cup homemade mayonnaise (directions follow, or you can just use the straight bottled stuff. See my recipe for homemade mayo)
The night before, boil the egg until hard-boiled (10-15 mins).
When they're boiled, rinse with cold water, peel, let them cool, and stick in the fridge.
The next day, cook the bacon in a skillet until crispy on both sides. (about 10 mins.) Set the bacon aside on paper towels and when cooled, crumble.
Combine all ingredients for the dressing together in a small bowl.
Combine bacon, bell pepper, green onion and romaine in a bowl. Pour dressing over salad and toss. Garnish with sliced boiled egg and avocado.