Lei M.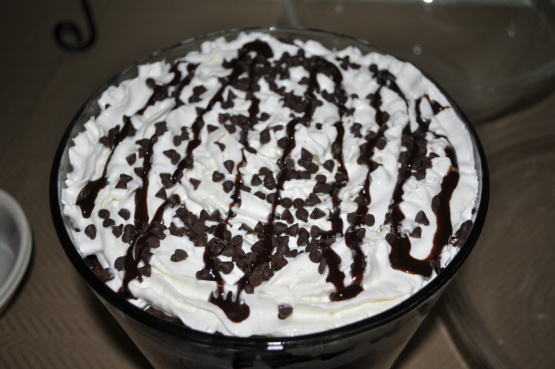 This trifle is so easy to throw together for a last minute party or if the kids decide to have friends over.
This is the second year I've made this for a pot luck dinner and I'm having to triple it. Obviously, it's a hit. I always add chocolate chips into the whipped topping layer, also. If you don't have time to make the brownies, buy premade ones and cut them up. It works that way, too!
498.95

g package brownie mix (whichever brand or type you prefer)

340.19

g bag miniature chocolate chips (you will not need entire bag)

333.10

g jar hot fudge (optional)

453.59

g container whipped topping

167.26

g box instant chocolate pudding mix

709.77

ml milk (for pudding)
First Layer.
Prepare brownie as directed on box and add about a half cup of choc chips. Once brownies are cooked cut them up or spoon about half of them out of pan and into bottom of trifle dish. Then heat up fudge and randomnly spoon fudge over brownies. Use half of jar.
2nd Layer.
Prepare pudding as normal with a cup of mini choc chips. Then pour half of pudding on top of the brownies.
3rd Layer.
Then spoon 8oz (half of tub) of whipped topping onto the pudding. Try to spread evenly so the layers are clean looking.
Then REPEAT all three layers and garnish with mini chocolate chips.
Then cover & chill in fridge until time to serve.