Easy Chocolate Chip Pan Squares
lets.eat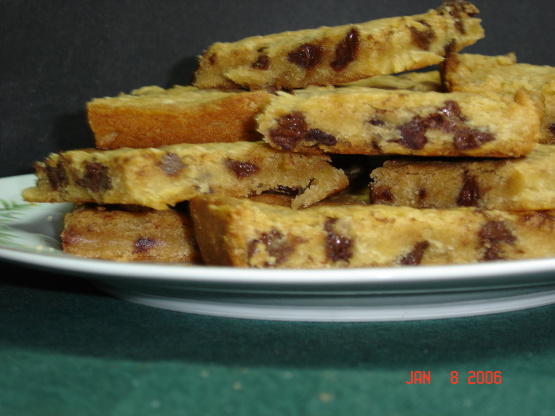 My mom made this for us all the time when we were little. It is an easy recipe that makes a great treat. Freezing instructions (courtesy of the OAMC tag game!): Cut into squares, flash freeze and wrap in plastic, then place in a ziplock bag. Be sure to label them! To eat: Thaw and enjoy!

this recipe was very easy to make and it came out great. i was worried when the dough was crumbly, but i followed directions and patted it down in the pan. thanks for the super easy recipe, it is a definit keeper
Combine margarine and brown sugar and beat well.
Mix in vanilla and flour.
Then add chocolate chips.
Spread onto lightly greased 9x13 pan and pat down gently.
Bake 10-12 mins or until light brown at 350°F.