Kats Mom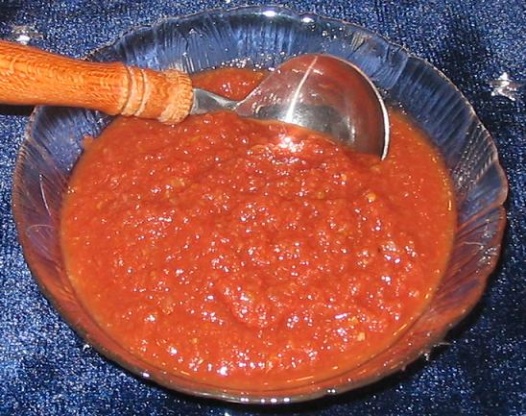 This makes a nice small batch, and it's easy to make more! Particularly tasty served with a meat-and-potatoes dinner. And if you heat it up with hot peppers or more cayenne, it can pass as a salsa.

Very easy and good tasting! I made it several days ago and my husband loves it. Thanks, Carole in Orlando
Use large tins (28-ounce) of plum tomatoes and do NOT drain.
Combine all ingredients in a large heavy pot.
Bring to a boil, then reduce heat to a simmer and cook, uncovered, until thick-- about 90 minutes.
Tomatoes will break apart as they cook, although you can help this along by pressing them against the side of the pot with a wooden spoon.
Stir chili sauce often as it cooks.
Pour chili sauce into hot, sterilized jars and seal.
Process in a hot water bath if you wish, but I store these jars in the back of my fridge-- they don't take up too much room because they seem to be eaten quickly!
Recipe makes seven cups; I always do up 2 pint jars for my family then put the rest in 1-cup size jars to give away.