lazyme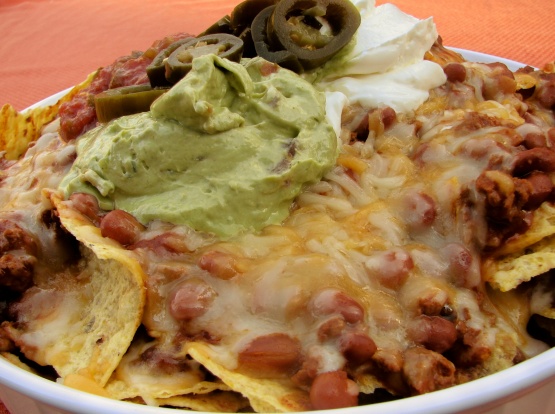 This makes a wonderful quick late-night snack, and it's a great way to use up any leftover chili I freeze some of my chili just to make this recipe --- I sprinkle finely chopped jalapeno peppers on top of second layer of cheese, but that is only optional add them on if you like heat --- all ingredients can be adjusted to suit taste. Prepare a double recipe in two separate pie plates if you are serving more than 6 people. Prep time does not include making the chili --- this is very good!

Where do I come when I have extra chili leftover? Where do I come when the guacamole is sitting around? Where do I go with a bunch of tortilla chips knocking on the inside of the cupboard, whispering "Did you forget about us sitting here from last week unopened and unloved"? The cheddar cheese and sour cream are doing their own sing-a-long in the fridge and all the ingredients are begging to be thrown together and here I am without a good recipe. :) Well no more I tell you. This is a great little recipe, sometimes the simplest is certainly the best isn't it? Just for the fun of it all, I threw the end-of-harvest tomato, (which was quite lonely sitting in the garden when all the other vegetables were safely tucked away from the cold) and that little jalapeno holding onto the plant leaf begging to be used too. The low-fat sour cream is a *MUST* and you will feel so good you got all these nifty ingredients together as you sit and while away the pleasure of it all on a fall Sunday afternoon. Thanks Kit for another stunning addition to your recipe collection.
Set oven to 400°F.
Heat the chili in a small saucepan or microwave until hot.
Spread half of the tortilla chips on the bottom of a 10-inch deep-dish pie plate.
Spoon half of the chili over the chips.
Sprinkle with half of the cheese.
Repeat with remaining chips, chili and cheese.
Bake for about 7-8 minutes until the cheese has melted.
Top with salsa, guacamole and sour cream.
Serve immediately.
Delicious!