Easy Chili con Carne (No Beans)
Prep 5 mins
Cook 1 hr 45 mins

Some people like beans in their chili, some do not. This chili has no beans, but if you like beans, you can easily serve them on the side.
Directions
Brown beef in a large deep pan.
Drain fat.
Add the garlic, 6 tbsp of the chili powder, and cumin, stirring to coat beef.
Add the tomato sauce and the beef broth and bring to a boil.
Reduce heat to low, cover, and simmer for 1 hour (add some water if your heat is too high and chili gets too thick).
Add masa gradually, stirring after each addition, until chili reaches desired thickness.
Simmer 15-20 minutes more, then season to taste with salt and add cayenne, paprika, and last tbsp of chili powder.
Most Helpful
Sue, this was a fantastic chili as I am one who does not like beans in my chili and the flavor was terrific! Not too spicy, and very filling. I may add some chopped onions next time as I will be making this again, and think this would be a great addition to any football gathering! Thanks! :)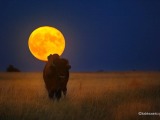 TASTY! Perfect for Chili Dogs! Best I have had!
This was a great basic chili con Carne. I made a big batch of it and my family loved it. We ate it served over rice, and as chili with melted cheese and crumbled crackers or corn chips on top. It was also used to top nachos. Just a great basic chili that is very versatile. Thanks!