Annacia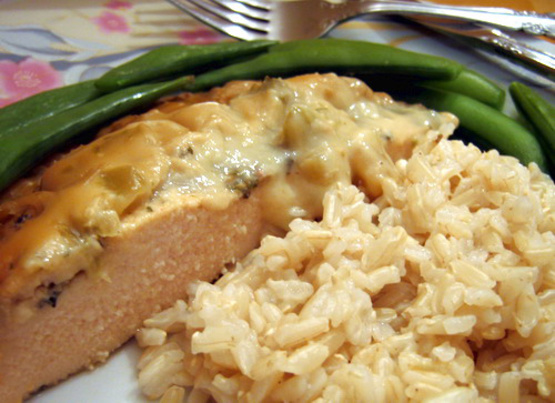 Survival for the non-cook. This was the first dish I ever prepared. This has become a staple for my younger "May I come eat at your place?" brother, when the answer is "No, you may not." "Whatever" means to choose whatever condensed soup flavor you wish. My favorite was always minestrone.
Preferably soak chicken in salted water for 20 minutes, then rinse and pat dry. (If no time, wash chicken under water and pat dry.) Remove skin and excess fat from chicken breasts.
Preheat oven to 350 degrees Fahrenheit.
Place chicken in glass casserole dish, bone side up. Pour condensed soup over chicken and, if too thick, add up to 1/2 can of water (4-5 ounces).
Cover with lid or aluminum foil. Cook in preheated oven for 45-55 minutes, until chicken meat is no longer pink.
Serve over rice, noodles, or halved baked potato.