Easy Chicken Tortilla Soup -- Crock Pot
teresas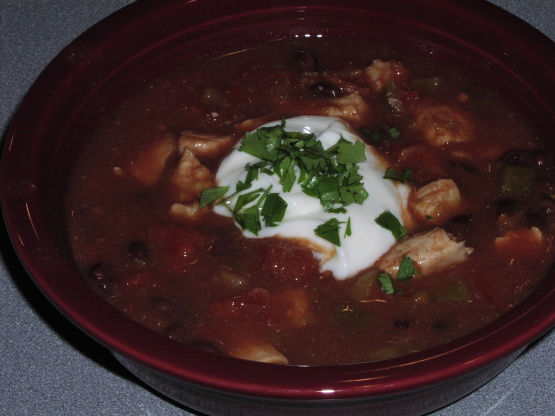 This is a really easy to put together chicken soup with a twist that uses ingredients that I almost always have available in freezer/pantry.

This was such a fabulous find! I'm always interested in recipes I can make with things I can keep on the shelves SO I did an experiment and used a Costco can of chicken breast meat in the place of the fresh/frozen chicken breasts. It turned out wonderful. My husband said it was just the right amount of spicy, my son added some Tapatio sauce. I think next time I might use TWO cans of chicken. Amazing to be able to make this soup by just opening cans and not needing anything else -- no sauteing, no cutting/chopping, no extra seasonings. Perfect! Doing it this way would be great for camping too! Thanks so much for posting it.
Combine all ingredients into crockpot and cook on low for 8-10 hours.
Right before serving, top with crushed tortilla chips.
Other toppings can include things like sour cream, shredded cheese, etc.