Easy Chicken Tortilla Soup
MsSally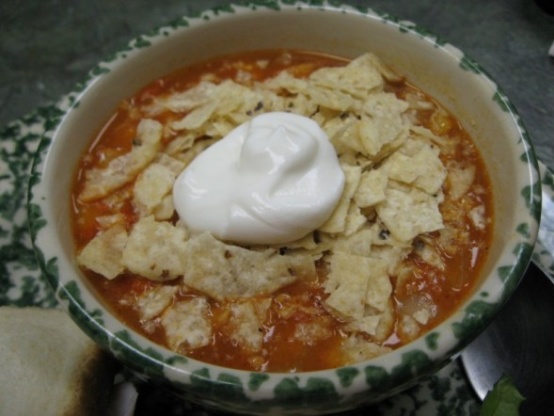 My friend Leslie served this at a soup party and it is wonderful. I use a rotisserie chicken to save time and per a review that the soup could use a little more substance, I've edited it to include tomato and rice soup.

This was very good, but not very filling. I added about 1/4 c of cooked rice to bottom of each bowl to make it more substantial for a main dish soup and served it with a turkey sandwich. I didn't have any jalapenos so I added a large pinch of cayenne pepper for heat. Very easy and quick to make.
Heat oil in a Dutch oven over medium-high heat. Add onion and garlic; saute 2 minutes. Stir in chicken and through tomato rice soup; bring to a boil. Reduce heat, and simmer 1 hour.
Ladle soup into bowls; top with tortilla chips and sour cream. Squeeze juice from one lime wedge into each bowl of soup before serving, if desired.