Nimz1466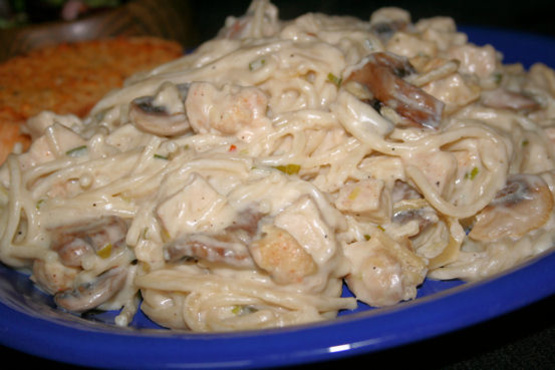 Amber this was very tasty, although I did make some adjustments to suit our taste. The sauce was not enough to cover the 8 ounces of spaghetti the way we like it so I tripled it which seemed to work well for us. The sauce was a little bland when tasted so I added about 1/2 tsp crushed red pepper flakes and about 1 tsp of chicken flavored granules to make the sauce a little more to our liking. I also used minced fresh garlic instead of the powder and sauted them with the onions and mushrooms. Left out the pimientos, just a personal preference thing. We will be making this again. Thanks for posting.
Melt margarine in a large saucepan over medium-high heat.
Add scallions and mushrooms; cook until tender, stirring, about 5 minutes.
Combine flour, garlic powder, pepper, broth and milk in a small bowl; mix until well blended.
Add flour mixture to saucepan; cook until mixture boils and thickens, stirring constantly, about 10 minutes.
Add chicken, pimentos and sherry; cook until thoroughly heated, stirring occasionally, about 2 minutes.
Stir in cheese and add cooked spaghetti; toss gently.
Yields about 1 cup per serving.