gailanng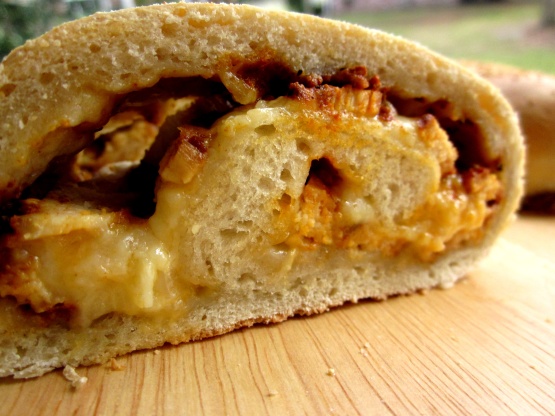 You can add any cooked vegetable (mushrooms, red pepper, green pepper, spinach) to this to add more flavor. The cooking and prep time includes the time you need to let the dough rise. Enjoy!
Let dough rise in warm place until doubled in size.
Roll dough out on a floured surface. Shape into a 12"x14" Rectangle. Place diced chicken, cheddar cheese, mozzarella cheese, chopped onion, 1/4 cup Parmesan Cheese and sprinkle with Garlic Salt, leaving 1/2" without the filling so you can pinch and seal it closed. Roll up jelly roll style (start with long side) and fold ends and pinch to seal. Place onto a greased baking sheet seam side down. Cover and let rise 45 minutes.
Beat egg and add water to make an egg wash. Brush egg wash onto dough and sprinkle with remaining Parmesan Cheese and sprinkle with Garlic Salt. Bake at 350 for 30 minutes or until it is golden brown.