VickyJ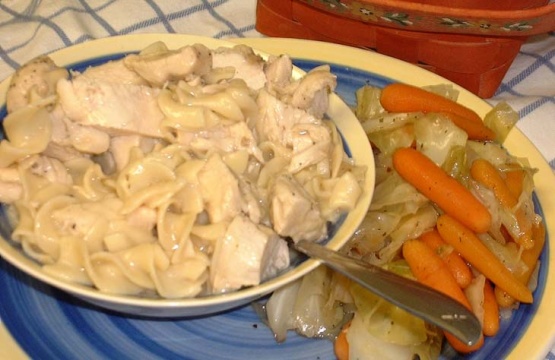 I made this up for my family. The kids enjoyed it. Very simple 30 minute meal.
Very good and easy! I didn't have chicken breasts, so I had to modify it a little bit to make it work with that. I just cooked the chicken and noodles separately in water and then added the mixture of cream of mushroom soup and beef broth to them and instead of garlic cloves, I used sprinkle of garlic salt! It was still very good! I will definitely make this again! Thanks for posting, Kerrbear!
Place oil in frying pan, brown garlic and chicken.
Add broth and mushroom soup and water, mix until creamy.
Add salt & pepper to taste.
Add pasta and simmer, covered until pasta is tender.
Remove from heat; add sour cream.
Then serve.