J Bowen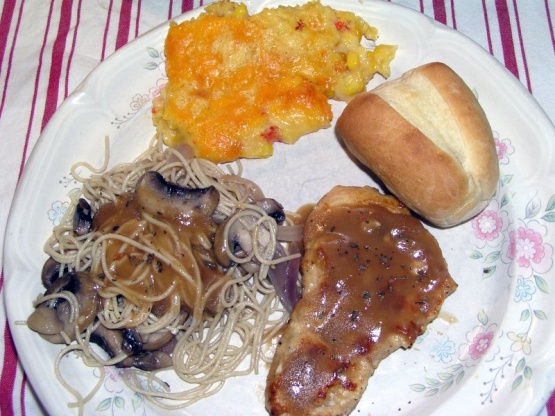 This is from a cookbook club that I used to belong to years ago, I pulled out the binder, dusted it off, and looked for a chicken recipe. This is what I found, and it's delicous...my picky 3 year old even ate it!

Not issuing an official rating, because I didn't follow the directions in the end and don't know how that would've turned out. Instead, I made roasted garlic mashed potatoes to serve it on, I didn't cut the chicken in half (though I did remove the tenders and cook them separately), and I mixed the veggies (shallots as well as red onion) in the balsamic sauce after coating the chicken with it. Normally, I would have doubled the balsamic, but I only had 1/4 c, so I used chicken broth for extra liquid. Next time, I'll make sure I have enough vinegar. I can't say I thought this was as good as my last recipe (4000 miles away in a box), but it'll do for now. Thanks!
In a large skillet, heat olive oil over medium-high heat. Add onion; saute until softened, about 2 minutes. Add mushrooms and garlic; cook, stirring frequently, until vegetables are softened and lightly browned, 10-15 minutes. Cover and remove from heat; set aside.
Rinse chicken breast halves under cold water; pat dry with paper towels. On a cutting board, cut each piece in half. Place between sheets of waxed paper; using a rolling pin, pound and roll chicken to 1/4 inch thickness.
In a bowl, combine flour, sage, salt and pepper. Dredge chicken pieces in the mixture, shaking off excess.
In a large skillet, heat 1 tablespoon olive oil and 1 tablespoon butter over medium heat. Cook chicken pieces, 4 or 5 at a time, until cooked through and lightly browned on both sides, about 2 minutes per side; add additional oil and butter, if necessary. Transfer chicken to a plate.
Add balsamic vinegar to the skillet; increase heat to medium-high heat and cook, stirring, to loosen any browned bits from the bottom and sides of the skillet, about 1 minute.
Return chicken and pan juices to the skillet; reduce heat to low and turn medallions once or twice to baste them in the sauce.
Add cooked pasta to the skillet with the vegetables, tossing to combine; warm over low heat until heated through, about 4 minutes.
Transfer pasta and vegetables to a platter. Arrange the chicken medallions on the platter next to the pasta and vegetables; garnish with fresh basil leaves and lemon wedges. Serve immediately.