DuChick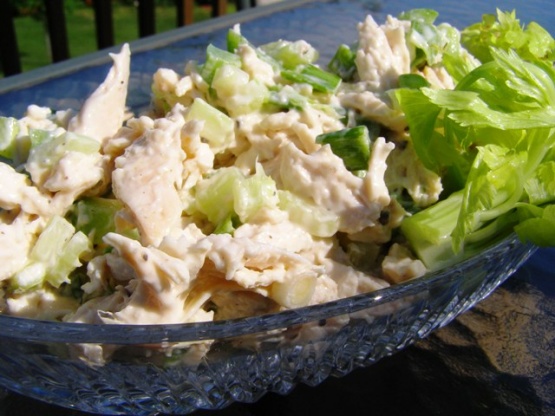 I used to make this when I was kid (I started cooking at age 7) and recently started bringing it to work. My co-workers now bother me about making more! It's soooo easy to make and nice summer dish to top salads, in a sandwich, crackers, whatever you think of! When I have them, I add chopped celery...yummy!

Yummy, creamy chicken salad made easy as 123 right here! I made it just as stated with the onions, peppers and celery and let the flavors meld overnight. It was great! This could be doctored up a bit with dill, sour cream or other veggies if desired, but this is a terrific basic start. Thanks Dougal03! MERP'd for My 3 Chefs '08.
Clean Chicken and throw in a pot of water.
Boil until chicken is done.
Let cool.
With hands, shred cooked chicken in bowl.
Add chopped onions and green peppers.
Add Mayo to your liking.
Sprinkle with salt Pepper and chill.
You can prepare a salad and add this.
Alternatively, Take a pita bread and open.
Spread chicken mixture and add tomatoes and lettuce.