Easy Chicken Pot Pie / Pies
Prep 30 mins
Cook 1 hr 30 mins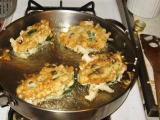 Comfort food all the way and a pleasant surprise for the family to boot. These pot pies will satisfy a "man-sized" appetite. I was astounded as to how nice they turn out!
Directions
Preheat oven to 350 degrees F.
Boil the chicken breasts in 5-6 cups water for 20-25 minutes then place on a plate to cool.
In a mixing bowl, use a whisk to blend the creme of mushroom soup (you COULD use creme of celery soup as a substitute), and the chicken broth.
Drain the carrots and peas, then add them to the soup blend.
Slice the boiled chicken into 1/2 inch chunks and stir it into the soup-vegetable blend.
Assemble 5, 5-inch ramekins or similar oven-proof bowls and spray them with PAM.
Distribute the mix among the 5 bowls evenly. Fill to about 3/4 of an inch from the top edges.
Melt the butter and pour an equal amount on top of the mix of each filled ramekin. Use all the butter.
In another mixing bowl, mix the flour, baking powder, white pepper and milk.
When the flour mix is slightly thicker than pancake batter and smooth (you may have to add an additional 2 or 3 tablespoons of milk), distribute the batter on top of the butter in each of the five bowls. DO NOT stir the butter or the batter into the soup mix!
Slightly spread the batter across the tops, using a tablespoon to do so. Do not bother to spread the batter from edge to edge.
Place the ramekins on a cooking tray and bake at 350 degrees F. for 50-60 minutes.
Remove from the oven and serve when the tops are golden brown.
Reviews
Most Helpful
I love the taste of home cooking, especially chicken pot pie...This is a nice recipe.
I have to admit, I was pleasantly surprised. I went on a search for something to use up leftover turkey. I am not a big pot pie fan but I knew homemade HAD to be better. I just remember the old Banquet pot pie days from my youth (40 years ago). So I thought I'd take a chance. I was a little skeptical when I mixed the flour and milk mixture. Looked like paste (and I was afraid it would taste like it too). So I added about a tablespoon of sugar to it. Turned out great! I used frozen peas and carrots instead of the canned. Very, very good. My whole family liked it.

I thought these were easy, healthy, and everyone loved them. I used whole wheat flour and a lot less butter. Thank you!!!