Easy Chicken Pizza Casserole
Jewelies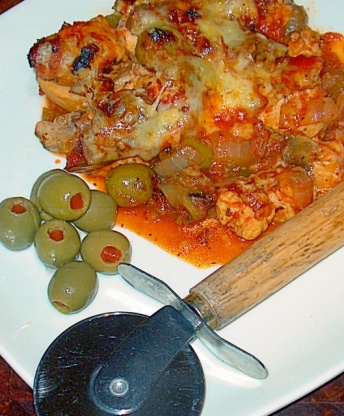 Oh here is a great low carb recipe for pizza lovers. You can add more of what you love on your pizza. If you like more mushrooms add more, or green pepper, you get the picture.

Top Review by Bippie
When I made this my DH said that my midwestern side was showing through. I used a rotisserie chicken, deboned and shredded on the bottom, then I had an eggplant that I peeled and sliced very thin on top of that and topped it with the sauce. Then I topped it just like a pizza. I don't like green peppers, so I substituted some sliced black olives and pepperoni along with everything else. Since the chicken was already cooked, it only took 20 minutes to warm everything up and melt the cheese. It was wonderful! Thanks.
Place whole chicken breasts into a casserole dish. Sprinkle on the onion salt and the oregano. Add onions, mushrooms, green pepper, olives.
Pour Pizza sauce over chicken and veggies.
Bake uncovered at 350 degrees for 40-45 minutes, remove from oven and top with cheese. Bake another 5 to 10 minutes or till the cheese is bubbly.
Serve with a green salad!
I hope you enjoy it!