Easy Chicken Pilaf Casserole
byZula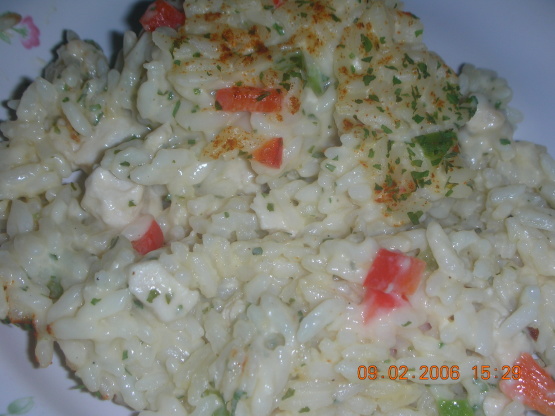 This wonderful chicken/rice casserole is a favorite in our house, and it is often requested for supper (Tip: any left over cooked chicken (or cooked turkey, I always freeze a whole cooked turkey breast)... just freeze and use in recipes that call for cooked chicken, that way you will always have it on hand, and ready to use). Also, this recipe is great made with cooked turkey instead of chicken. Prep time does not include cooking the rice.

Top Review by byZula
My family loved it!! I doubled the recipe, and used evaporated milk and whole milk to replace the half-and-half I forgot to buy. :-) I kinda forgot the mushrooms also, but my kids don't like them anyway. :-) I used some uncooked chicken breasts I had, chopped them into small pieces and then sauteed them with seasoning and fresh garlic. Oh, and I added extra cheese!! Mmmm! This would also be good with a bread crumb topping, but I just sprinkled the top with paprika for color this time. This was very easy, tasty and versatile! I will definitely make this again and try it out with different meats, vegetables and cheeses. A keeper for sure!
Set oven to 350 degrees.
Grease a 2-quart casserole dish.
In a saucepan, melt butter; whisk in flour and fresh garlic (if using), and whisk for 1 minute.
Gradually stir in half and half cream and chicken broth; bring to a light boil, and simmer for 2 minutes, until thickened; add in grated Parmesan cheese (you can use as much as you desire) salt and pepper.
Fold in the cooked chicken, rice, mushrooms, peppers and parsley.
transfer to a prepared casserole dish.
Cover, and bake for 40-45 minutes, or until the rice is done, and the casserole is bubbly.
Note: cooked brown rice is great also.