awalde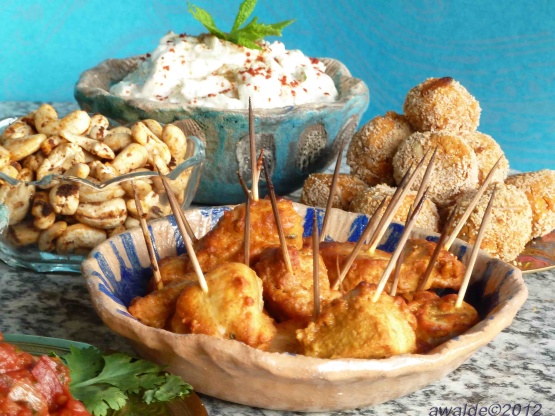 This is modified from Madhur Jaffrey's Quick & Easy Indian Cooking. I love her recipes, but find that they call for far more fat than my diet can sustain, so I've left all the flavor but cut the butter and oil. These are wonderful as either an appetizer to share with a crowd, or a main dish for 4. Just a note- turmeric stains, so please be careful not to get the marinade on your counter, or your clothes.

I placed everything in a large zip bag and let it marinate overnight. The next day I threaded the chicken along with red pepper, zuchinni, eggplant, and onions onto skewers & cooked on a contact grill. The flavors while mild, were definitely delicious. The chicken was tender & the veggies picked up enough of the marinade flavor. Served with rice.
Cut the chicken into 1 inch cubes. Put in a mixing bowl and rub with the lemon juice and 1/2 teaspoon of salt.
In a separate bowl, mix the yogurt and flour, whisking to combine well. Add the remaining 1/4 teaspoon salt, and the ginger, garlic, cayenne, turmeric, cumin, and garam masala. Mix well, then pour the yougurt mixture over the chicken. Mix to coat all of the chicken pieces, then set aside for at least 15 minutes. (You could leave in the refrigerator overnight at this point, if you wish.).
Preheat your broiler or grill to high heat.
Thread the chicken onto skewers (remember to soak the skewers first if you are using wooden ones, so they don't burn). Place on a broiling pan (if using the oven) or directly onto the grill grate. Baste with half of the melted butter.
Cook for five minutes, then flip and baste with the remaining butter. Cook for 2 - 3 more minutes, or until the chicken is cooked through.
Serve immediately.