Maz2474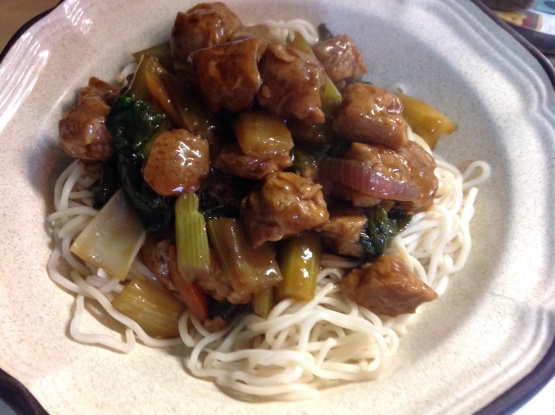 This is fresh-tasting and easy to make. I enjoy it much better than take-out.

Since we've moved to NC 6 years ago, we've missed our good old MN chow mein. Here we get the large chunks of veggies in a watery type of so-called sauce. Every time we go back to visit our family in MN, good old chow mein is a must for us. I've tried several methods of cooking my own chow mein, but this is it!!! Absolutely delicious. My husband said, "This tastes like real chow mein!" Will make often.
In a large pot, saute celery in oil for apx 5 minutes or until crisp-tender.
Add bean sprouts (if using), mushrooms, water chestnuts, and chicken.
In a large bowl, blend cornstarch with water.
When smooth, add chicken broth and soy sauce to bowl.
Mix well and pour over meat and vegetables.
Bring to a boil, stirring until sauce thickens.
Reduce heat to low.
Cover and simmer 10 to 15 minutes.
Serve over hot, cooked rice and chow mein noodles.