Easy Chicken and Veggie Soup
Derf2440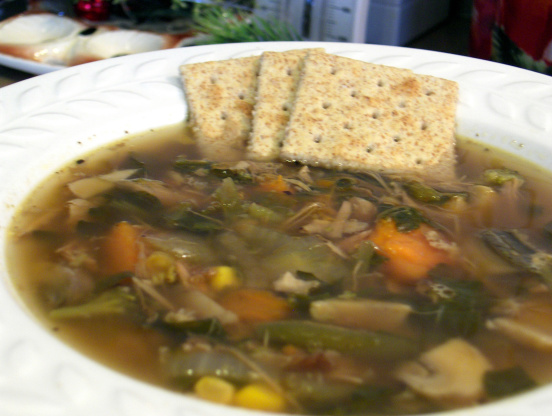 This is my husband's favorite chicken soup.

quite good chicken soup! I used homemade stock and the meat from the bones of the stock and used frozen veggies, sweet potato, corn, broccoli, spinach and green beans, what I had in the freezer. We felt it could use a little more salt, we added more at the table. It will be nice to have in the freezer for lunches.
Heat oil in Dutch oven over medium-high heat until hot.
Add chicken, mushrooms and onion; cook and stir 4 to 5 minutes or until chicken is no longer pink.
Add broth and Worcestershire sauce; mix well.
Bring to a boil, reduce heat.
Stir in vegetables with pasta.
Simmer 8 to 10 minutes or until thoroughly heated.