Easy Chicken and Rice Casserole
J-Lynn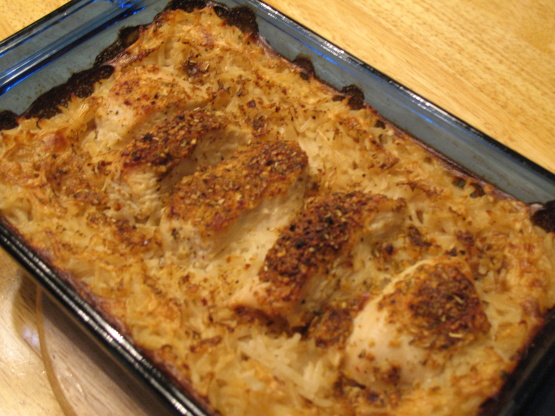 Wash the chicken breasts, put it all in a casserole pan, and pop it in the oven. So easy to make and the rice is delicious and the chicken crispy. My mom used to make it as we all loved it.

Tasty! I like this recipe because it is soooo easy! Just mix a few things, stick it in the oven, and dinner is ready. It is a bit bland, but I added garlic salt and some spices on top of the chicken and it turned out quite nicely! I would skip the salt in the future, though, because the soup mixes are salty enough - you really don't need to add more.
1

(10 1/2 ounce) can cream of mushroom soup
1⁄4-1⁄2 ounce dry onion soup mix (if it is a little larger package it is fine)

1

cup raw rice

2

cups water
Pam cooking spray
Pam spray a 9x13 casserole.
Add the mushroom soup, 1/4 package of onion soup mix, raw rice, and water and mix well-- (shake the onion soup packet well and eyeball it to 1/4 of a package, if there is a little more, it is fine).
Wash chicken breasts and place on top of rice mixture.
Dot with butter, salt, and pepper.
Bake at 400 degrees for 1 hour.