Easy Chicago Style Spinach Pizza
Lvs2Cook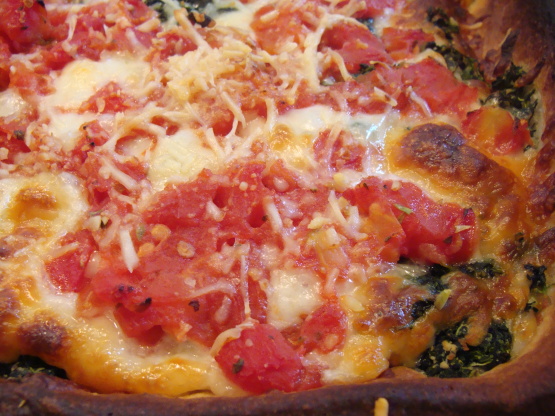 This is my all time favorite recipe! My family used to live near Chicago and it is really hard to find real Chicago style pizza but I think that this comes close.

I really enjoyed the flavor of this pizza but I had a somewhat difficult time with the directions. I did drain the can of tomatoes otherwise the pizza would have been swimming in liquid. I followed the baking directions and while the crust underneath was perfect, the crust on the sides of the pan was overdone to the point of burning and that was after only 20 minutes total of baking. Next time I would just cut the time down. Again, the flavor was excellent! Thanks for posting! Made for PAC Fall 2008.
Heat oven to 500 degrees F.
Press crust onto bottom and sides of well greased 9 x 13 inch baking dish.
Mix spinach, mozzarella and 2 tablespoons Parmesan and spread it evenly over crust.
Mix tomatoes, garlic, oregano and pepper flakes, and spread it over the cheese mixture.
Sprinkle with remaining 2 tablespoons Parmesan.
Bake 10 minutes at 500, then reduce heat to 375 degrees and bake for an additional 20 minutes.