Asha1126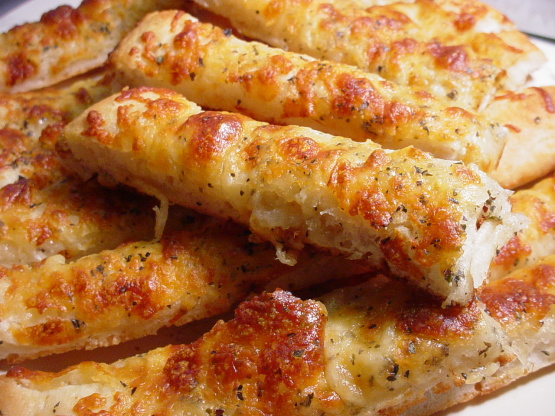 These are so simple and a quick fix for guests that may drop in.

I made these the other night to have with our ordered in pizza. Very quick, easy, and tasty! I followed the suggestion of other reviews and baked the crust 5 minutes before putting on the butter and cheese. I wanted to use a provolone/mozzarella mix however as I couldn't find it at the store I used a 5 Cheese Italian. I also used 1 cup instead of 1/2, but that's just because we're cheese people. Instead of the dried basil I used oregano. I mixed the oregano and garlic salt with the melted butter and then spread it on. Love this recipe :)
Preheat oven to 425.
Unroll pizza dough onto a greased cookie sheet and brush with butter.
Sprinkle cheeses and spices evenly over the dough.
With a pizza cutter, cut dough lengthwise into 12 long strips. Then cut those in half to make 24 strips.
Do not seperate strips.
Bake for 10-12 minutes or until light golden brown.
Recut along each strip and remove from cooking sheet.
Serve sticks warm with marinara sauce.