daggle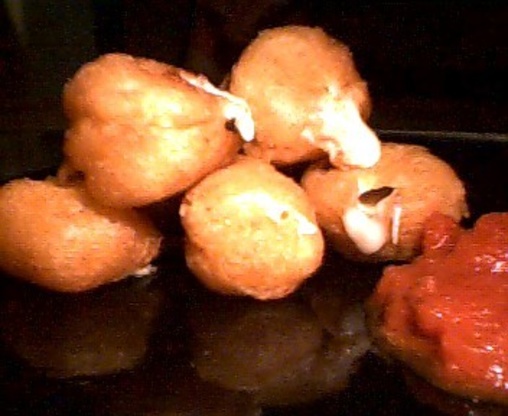 These are so good! Crisp on the outside and melting cheese on the inside! This recipe was originally from Betty Crocker. Servings depends totally on how large or small you cut your cheese. I prefer Monterrey Jack.

Loved the batter...very crisy and delicious (would be great on onion rings, I think)!!!! I bought the cheese that is already cubed and put them into the freezer the morning before I made them. Had to watch carefully because they tend to "leak" suddenly if you're trying to handle too many in the frying pan at one time...will try to fry only 3-4 at a time, next time.
Place cheese nuggets in a pan and put in freezer for at least one hour.
Mix bisquick,paprika, garlic powder, milk and egg until smooth.
Dip cheese into batter,covering cheese completely.
Fry in 2 inches of oil heated to 375 degrees in a frying pan or in an electric skillet.
Fry about 1-2 minutes, turning once, until golden brown.
Drain on paper towels.
Let stand 3 minutes before serving.
Serve with marinara sauce.(recipe #153093).