Nimz1466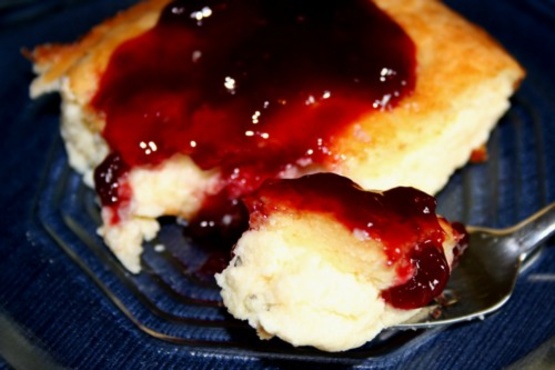 Less time to prepare than blintzes. Recipe is from The Jewish Holiday Cookbook by Gloria Kaufer Greene

Top Review by Tunnia
I had never made, nor eaten blintz before. When my husband asked me to make some for him for his birthday I found this recipe and all I can say is WOW! My family raved over how delicious this dish was and I was thrilled with how easy it was to prepare. My kids told me to save the recipe because they are going to want it on their birthdays too. I subsituted cream cheese and cottage cheese for the farmers cheese and ricotta because of personal preference and served it with fresh sliced strawberries and whipped cream.
Preheat oven to 350°F.
With a blender or mixer, combine the batter ingredients until very smooth.
Pour 1 1/2 cups of the batter into a greased 9X13 baking pan.
Bake for about 10 minutes or until set.
Meanwhile, comine the filling ingredients and mix well.
When bottom layer of batter has set, remove the baking pan from the oven and smoothly spread the cheese filling over it.
Briefly remix the remaining batter and then gently pour it over the filling, covering it completely.
Return the pan to the oven and continue to bake for 45-50 minutes or until the top is puffed, set, and browned.
Remov the Blintz Puff from the oven and allow it to rest for 10 minutes before cutting it into squares.
Serve immediately, plain or with toppings.