racrgal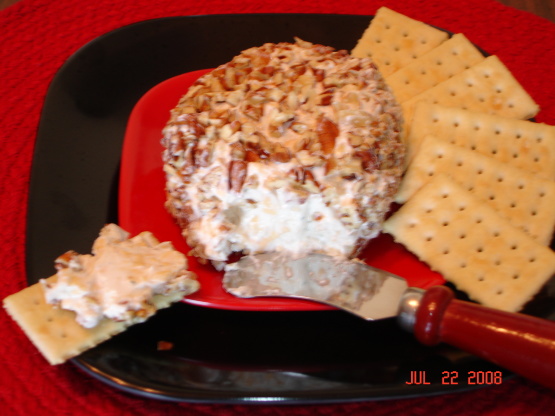 My mom made this cheeseball every Christmas when I was growing up. It is still one of my favorites! I am not sure of the ranch dressing's envelope size. I don't think it comes in multiple sizes though.

Excellent cheese ball! This recipe is fast, easy and good. I did find the chill time in the recipe to be too short. The mixture is still very gummy at that time and the nuts sink right into the cheese. I let half the mixture set overnight and it was much easier to work with. This makes a LARGE cheese ball. I made two smaller ones. I believe the sour cream keeps this at an excellent consistency for dipping and spreading. It is not hard and difficult to spread as some cheese balls are. Five stars for ease, taste and consistency. Thanks Rucinda!
mix cheddar cheese, sour cream, cream cheese, and ranch dressing mix.
chill for 1 hour or until set.
roll in chopped pecans.
serve with Ritz crackers.