Easy Cheddar Walnut Bread
alligirl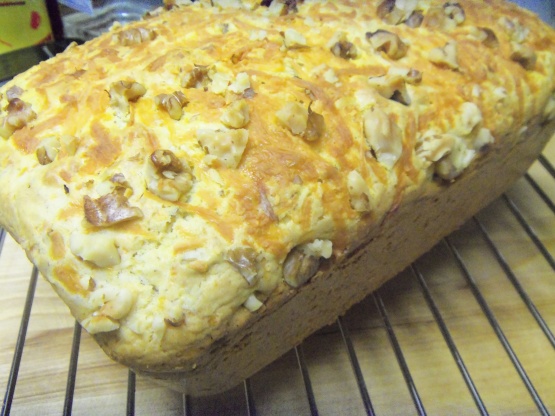 From The Irish Pub cookbook, this delicious variation on traditional brown soda bread is from Durty Nelly's pub-restaurant in the village of Bunratty, County Clare. It's easy to make and slices nicely, but note it's not like American bread you're used to but an Irish style bread with a slight "bitter" taste.

This was a very nice, crusty bread however, I may have over-mixed it, as it was very crumbly. I did enjoy the savory flavor, and the crunch from the nuts. I'll make this again, and be very conscientious about the food processor. Thanks for sharing, FLKeysJen!
Preheat the oven to 375 degrees.
Lightly butter a 9" x 5" x 3" pan.
In a food processor, combine the flours, mustard, salt, baking powder, baking soda and sugar; pulse 2-3 times to blend. Add the butter and process for 10-15 seconds, or until the mixture resembles coarse crumbs. Set aside one tablespoon of the cheese and one tablespoon of the walnuts for the topping and add the rest to the food processor, pulsing 8-10 times to blend.
Add the eggs and buttermilk and process for 10-20 seconds, or until a soft dough forms. Spoon into the prepared pan, smooth the top with a rubber spatula that has been dipped in buttermilk, and sprinkle the remaining cheese and walnuts over the top.
Bake for 35-40 minutes or until a skewer inserted into the center comes out clean. Remove from the oven and let cool on a wire rack before slicing.