Brenda.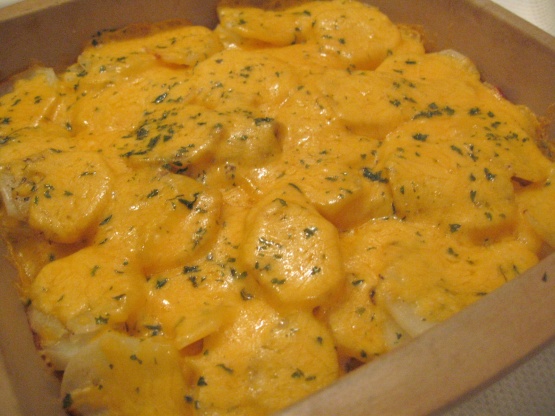 This is a really great tater recipe, it's one I have been making for a long time, not only is it easy to make it's so good! You really don't have to have the exact amounts for this recipe, throw in another potato if desired, use as much cheese as as you like!
Set oven to 425 degrees.
Butter a shallow baking sish.
Thinly slice the potatoes, and place in the baking dish.
In a small saucepan, heat butter, onion, salt, pepper, garlic powder and thyme until the butter is melted.
Drizzle over potatoes.
Cover, and bake for 45 minutes, or until potatoes tender.
Remove from oven, sprinkle with cheese and parsley.
Return to oven and bake for another 10-15 minutes longer, or until cheese is melted.