2Bleu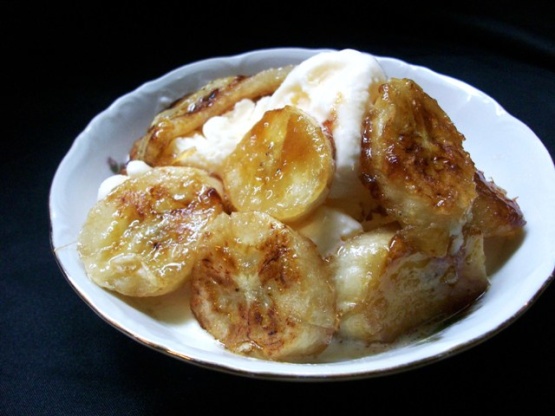 These are great for breakfast over pancakes, waffles, french toast, crepes, oatmeal, etc. Or serve with low fat ice cream and toasted macadamia nuts for dessert. You can use regular tub margarine or butter in place of the cooking spray. However, this will double the cooking time, and make for a crunchier stickier outside to your banana.

This was so good & so easy to make! I loved the crunchy coating. I used Splenda in place of the regular sugar which lowered the calorie count. Served it over vanilla ice cream making it a wonderfully simple dessert. Loved it & will make it again.
Slice bananas into thick coins or lengthwise strips, depending on your preference.
Pour sugar onto a plate. Roll bananas in sugar, until completely coated.
Spray a medium size nonstick pan, and heat over medium high heat. Add bananas and sugar.
Cook bananas until light to golden brown underneath, about 4-5 minutes (you can lift with a spatula or fork to peek). Be careful not to overcook or burn them (if you smell them browning, or see color in the pan, flip them right away). Keep in mind these times will vary, depending on your stove.
Gently flip bananas over to brown other side, turning heat down to medium. The second side will brown in about one minute.
Transfer to a plate that has been coated with cooking spray (otherwise they may stick - they are ooey gooey and sticky!) and serve. Alternately, slide them right onto your ice cream or breakfast food.
Soak pan in hot water to facilitate cleaning.