Calee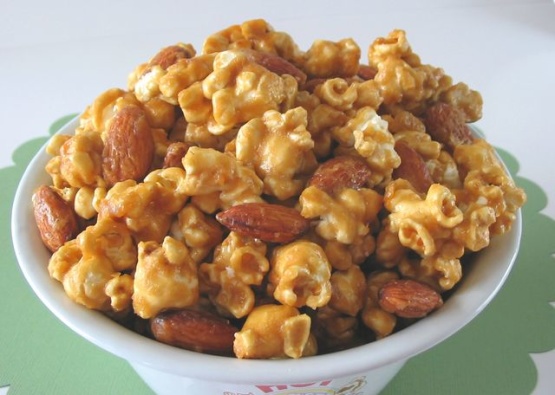 This is habit-forming, it is soooo good and so simple to make, you can also use unskinned almonds or use whatever nut you desire --- you may also add 1/3 cup molasses for a stronger caramel flavor :)
pretty good, a little buttery tasting, so i might try molasses next time... it should be known that the for step 4, the mixture will rise, so be sure to have it in a big pot to begin with :) i dont like my popcorn to be fully coated, so i used about 1 1/2 cups of kernels good stuff kittencal! Also, pop the corn into a bowl then transfer it to another, all the unpopped kernels are at the bottom!
Set oven to 250 degrees F.
Put the popped corn in a large bowl.
Melt the margarine (or butter) stir in brown sugar, corn syrup and salt; bring to a boil, stirring constantly.
Then boil for 5 minutes WITHOUT stirring (this is important DO NOT stir for 5 minutes!).
Remove from heat and stir in baking soda and vanilla.
Add in the nuts and stir to combine.
Pour the mixture over popped corn in bowl; mix well with a wooden spoon to combine.
Transfer to a large greased roasting pan, and bake for 1 hour, stirring every 10-15 minutes.
Remove from oven then cool.
Break into pieces.
Store in a tightly covered tin box.
Delicious!