Easy Cajun Shrimp With Corn Flapjacks
loof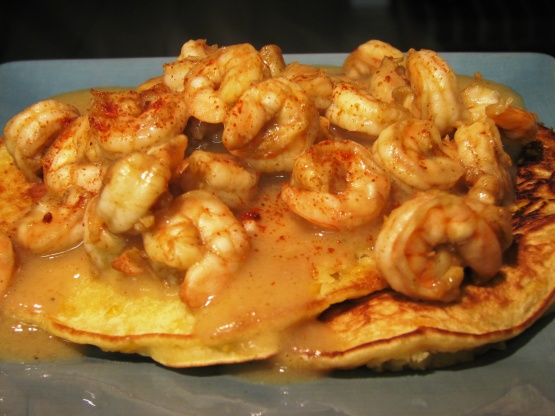 Easy and delicious, modified from Rachael Ray's Everyday magazine to make it a little easier. You could also just make the shrimp and sauce to serve over rice, but I recommend trying the flapjacks. The results are a little spicy and a little sweet.

This recipe was alright; nothing I would really make again. I did find the actual recipe on Rachel Ray's website...I don't know why modifications were made. The shrimp was nice and spicy, especially with the extra cayenne I added, but the flavor was nothing fabulous. I did really like the corn flapjacks though, and use them accordingly for other meals.
Toss the shrimp with seafood seasoning. Set aside.
In a medium bowl, combine the corn, butter, eggs, sugar, 1 cup of flour, salt, and baking soda. Set batter aside.
In a large non-stick skillet, heat 2 TBS olive oil and cook shrimp over medium high heat about 2 minutes on each side. Remove shrimp from pan and set aside.
In same pan, heat 2 TBS olive oil over medium heat and stir in 2 TBS flour. Cook, stirring constantly, until the mixture is a rich brown color, 3 to 5 minutes.
Add the garlic and green onions and cook 2 to 3 minutes.
Whisk in chicken stock and boil for 1 minute to thicken.
Add in shrimp and cook until shrimp are done. Cover and keep warm.
Pour 1/3 cup batter for each flapjack onto hot griddle. Cook until bubbles appear on surface and bottoms are nicely browned. Flip and cook one more minute.
Top the flapjacks with the shrimp and sauce.