MasakoHI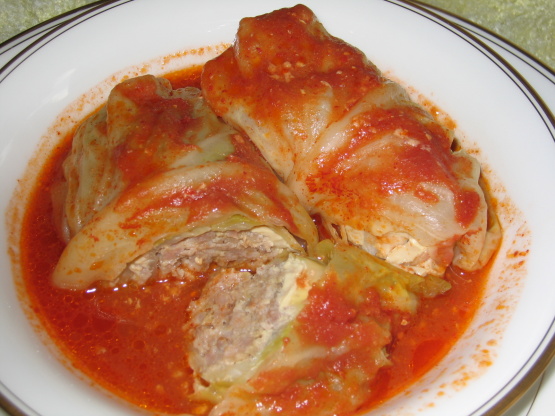 I remember having this for our local high school (Hawaii), school lunch. This was always made with ground pork and the gravy poured over white rice. Also, for added heat, I use tabasco sauce on the cabbage rolls. Delicious!
Core the head cabbage and parboil in a pot of boiling water until cabbage leaves are pliable. Drain and set aside to cool.
Make filling:.
Mix together, the ground pork, eggs, salt and pepper.
Use a large ice-cream scoop and place one scoop of filling into core end of cabbage leaf and roll. I make the filling the size of a golf ball.
Place all the rolls, seam side down into large pot and pour the two cans of tomato sauce over the cabbage rolls. Simmer on low heat for about three to four hours. Cook until cabbage leaves are soft.
Serve over white or brown rice.