Easy Buttered Green Beans and Carrot Sticks
Redsie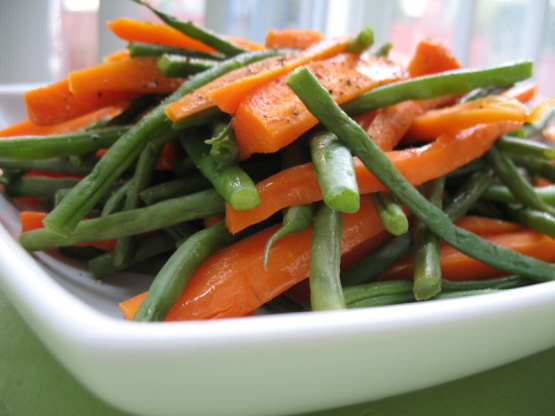 This is easy to make and the perfect veggie side dish to compliment your holiday table, and the combination of colours is very pretty! This recipe will serve around 6-8 people but it can be doubled. The beans and carrot sticks can be boiled hours in advance, just leave them in the ice water in the fridge until ready to saute in butter. I most always sprinkle with sliced toasted almonds, or even peanuts when serving this at my table, but that is optional.

My family only gave this recipe 4 stars, but I had to give it a 5, because it was my fault. I LOVE nuts in my food, and toasted a few almonds to add to the dish as the optional nuts. No one else in my family likes nuts in food. So my DH and 2 sons complained about it. Next time I will make it without the optional nuts, and I'm SURE I'll get a better response. Simple, honest, healthy, delicious food. Thanks again Kitten!
2

lbs green beans, ends trimmed

10

ounces carrots, peeled (cut into matchstick strips)

3 -4

tablespoons butter

2 -3

tablespoons olive oil
salt and black pepper
chopped nuts (optional)
Cook the green beans in a pot of boiling salted water until crisp-tender (about 5-6 minutes).
Transfer beans to a bowl of ice water using a slotted spoon (do not discard the water).
Boil the carrot sticks in the same water until crisp-tender (about 1 minute) then transfer to the same bowl of ice water with the beans.
Place the beans and carrots on a paper towel and pat them dry.
Up to this point you can refrigerate until ready to saute them.
In a large skillet or a medium pot melt the butter with oil.
Add in the beans and carrot sticks; toss until hot (about 2 minutes).
Season with salt and pepper.
Transfer to a large serving bowl and sprinkle with nuts if desired.
Delicious!