Easy but Elegant Chicken Supreme
ciao4293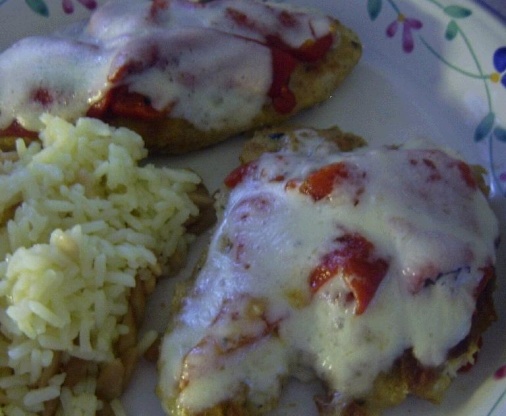 This is a family favorite, and a great dish to make for company especially if you are short of time.

very good chicken Mysterygirl!! Haven't had provolone cheese for ages, it was a nice change!! I love the combination of chicken and mushrooms and the cheese make this a particularly good taste!! and for a change didn't have to cut the recipe for 2, we will do again and again!! Thanks for sharing!!
In a shallow bowl or on a paper plate, combine the bread crumbs and 2 Tbsp of flour; dip chicken into egg, making sure all sides are coated, then dredge in crumb mixture.
Repeat process, being sure to cover the chicken entirely.
In a 10 inch nonstick skillet, combine the margarine and oil.
Heat over a medium heat until the margarine is bubbly and hot.
Add chicken and cook, turning once, until both sides are lightly browned and chicken is cooked through, 2-3 minutes on each side.
Transfer to a plate and keep warm.
To the same skillet add the mushrooms and saute until lightly browned, 1-2 minutes; sprinkle with remaining teaspoon of flour and stir quickly to combine.
Add broth and wine.
Cook, stirring constantly, until mixture thickens, about 1 minute.
Return chicken to skillet and top evenly with cheese; cover and cook until cheese is melted, 2-3 minutes. Garnish with parsley.