Easy Brussels Sprouts Au Gratin
gerry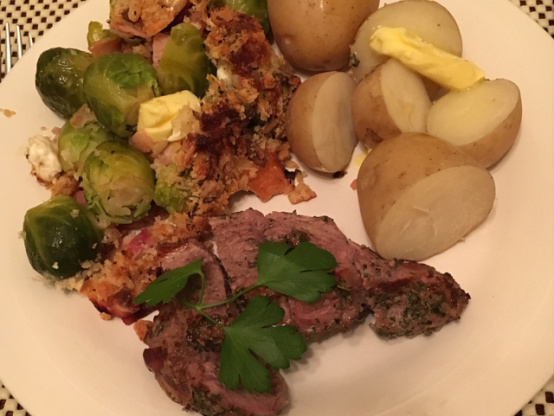 This recipe only uses a few ingredients and is fairly easy to make.

Made this today for our New Year's Day dinner of pork and sauerkraut. Left the cheese off since I wasn't sure if it would go well with sauerkraut. Used onion powder instead of an onion. It was delicious. DH really enjoyed it. Can't wait to make again and top with Parmesan. Thanks!
Preheat the oven to 400°F
Bring water to a boil in a large saucepan
Add the Brussels sprouts, nutmeg and salt.
Bring back to the boil, lower the heat, cover and cook gently for 10-15 minutes.
Drain Brussels sprouts and arrange in an ovenproof dish.
While the sprouts are cooking melt half the butter in a frying pan, add the onion and saute for 4-5 minutes. Stir in the ham.
Sprinkle onions and ham mixture over the Brussels sprouts, then sprinkle with the Parmesan cheese.
Dot with the remaining butter and cook in the oven for 20 minutes until the top is golden brown.