Easy Brown Rice With Peppers and Zucchini
loof751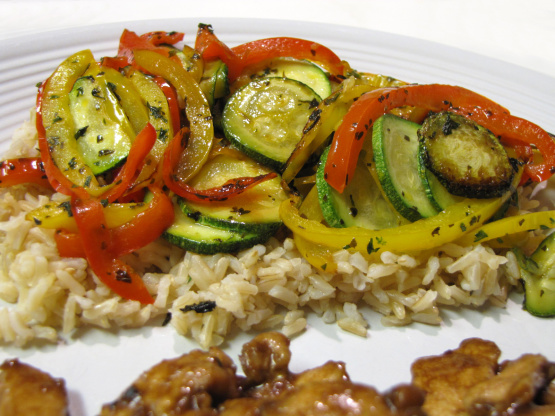 Found this recipe on Prevention.com and modified it slightly... it's actually very good, healthy and simple! Also looks very nice, because of the beautiful colors.

Easy, healthy, delicious - what more could you ask for? I made just as directed and would not change a thing. Peppers and zucchini are a great combination, basil pulls it all together, and it's great on the nutty brown rice. Thanks for sharing your recipe! Made for Fall Pick-A-Chef 2011
1. Prepare the rice according to package directions, using the broth instead of water and salt.
2. Once rice is close to done, heat the oil in a large skillet over low heat.
3. Add the bell peppers, cilantro, basil, and salt. Increase the heat to medium and cook, stirring, for 1 minute.
4. Add in zucchini (this is so it doesn't get all soggy) and cook vegetables for 2 minutes, or until crisp-tender.
5. Serve the vegetables over the rice.