Easy Breezy Chocolate Mousse
gemini08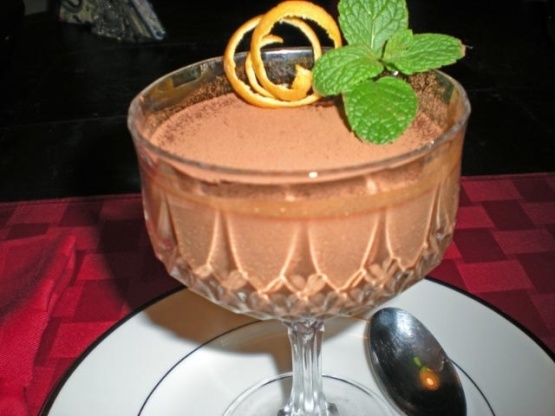 This recipe hails from Austria, the use of chocolate with whipping cream and cinnamon is typically Austrian. Even though there is no gelatine used, it firms up nicely and has a creamy, silky texture. 2 hours of cooling is included in the cooking time.

Oh gosh this was so good! Chocolate mousse is my very favorite dessert and only one restaurant made it perfectly but now I can make it at home. Just a bit of orange flavor that goes so well with the chocolate and it is not hard to make at all. This will be enjoyed again! Made and reviewed for Pick A Chef - Fall 2012.
Heat 1/3rd of the whipping cream in a heavy bottomed sauce pan but don't let it boil, turn off the heat. Add the chocolate chips and stir until melted, add 1 tsp cinnamon and the grated orange zest und mix well.
In a large mixing bowl whip the rest of the cream to stiff peaks, pour the chocolate mixture into the whipped cream and and carefully fold in with a spatula, do not stir.
Pour the mixture in 4 dessert bowls, put the rest of the cinnamon and the cocoa in a tea strainer and sieve over the dishes.
Put in the fridge and let set for at least 2 hours or over night.
When ready to serve, garnish with a swirl of orange zest and some fresh mint.