Easy Breakfast Casserole Ole
Rita1652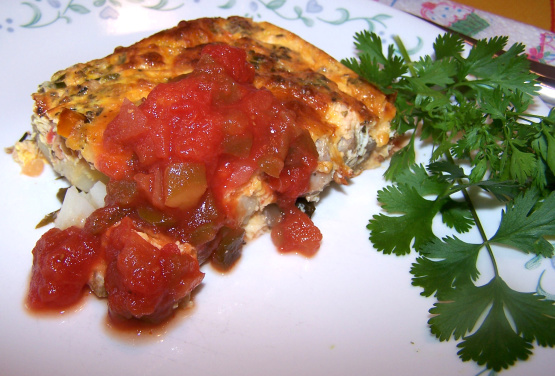 I needed to make a brunch type casserole for a crowd of 8. I also did not want to have to get up to a mess so threw this recipe together to make ahead. Very simple to put together either that morning or the night before. I have done both ways now and am glad this comes out so good. Heat is up to you for taste.

I just made this a second time, and I think it was even better than the first time. <br/><br/>I was having a guest for breakfast with our family, and I halved the recipe. Even though the recipe doesn't say it, I cooked the sausage (seems a given), then I sauteed the pepper, onion, and O'Brien potatoes in the sausage grease on medium heat for about 8 minutes, and added the garlic at the end. I put the pepper, onion, potato mixture on the bottom of the pan, then put the sausage over it evenly.<br/><br/>I mixed the eggs, milk and spice in a separate bowl and put both in the fridge overnight. <br/><br/>I quickly re-mixed the egg mixture and finished the prep (I used half the butter and it was plenty!), and put it in the oven before going running and I wasn't sure if I would be back in 45... so I baked it at 300 degrees and bumped the heat up to 350 for about 15 minutes when I got back. It was PERFECT! I forgot to cook it covered, and since it worked out so well, this is how I'll bake it in the future.<br/><br/>Along with it I served fresh fruit and sticky buns.
1

dozen egg

1

cup milk (I use 1%, any can be used)

1

green pepper, chopped (any color or combo will do)

1

onion, diced

1

tablespoon garlic, minced (I use more but I love garlic)

1

tablespoon basil

1

tablespoon oregano

1

tablespoon pepper

1

teaspoon salt

10

breakfast sausage links, chopped into pieces

2

potatoes, cut into cubes (1-inch)

4

ounces mozzarella cheese or 4 ounces cheddar cheese, shredded

8

ounces salsa (I use medium, use the heat to your taste)

8

tablespoons butter (may use less, I like to add more for the flavor, margarine may also be substituted)
In large bowl , beat eggs, milk, spices, salt and pepper til frothy. Add in chopped sausage, pepper and onion and fold.
Cut potatoes into small cubes, put into greased 9 x 13 pan (grease with some butter).
Pour egg mixture over top of potatoes.
Dot with 4 -8 Tbsp butter (may use more here accouting for the 8 Tbsp).
Pour 1/2 of salsa over top, reserving remainder for topping after cooked.
Sprinkle cheese over top.
Cover with foil and bake in oven, 350°F for 45 minutes. Check after 45 min every 5 minutes til edges are just browned. Eggs will fluff up.
Cool a bit before serving.
NOTES**.
Oven temperatures vary so check accordingly.
If making the night before, do not put salsa or cheese on until before putting in the oven.