Derf2440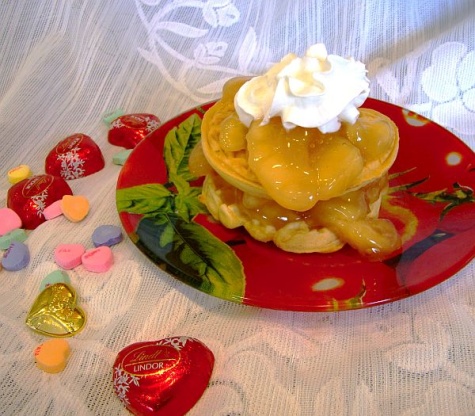 This is a breakfast idea for all of you that say you have no time for breakfast. It's quick, delicious and satisfying. What more could you ask for?
2

low-fat waffles or 2 fat-free waffles (Aunt Jemimia Low-fat Waffles or Kellogg's Fat-free Waffles)
2⁄3 cup lucky leaf Splenda sweetened cherry pie filling or 2⁄3 cup Splenda sweetened apple pie filling, divided

2

tablespoons plain fat-free yogurt or 2 tablespoons fat free sour cream or 2 tablespoons fat-free whipped topping, divided
Toast the waffles in the toater until browned lightly.
Top each one with 1/3 cup pie filling and 1 tablespoon of yogurt, sour cream, or whipped topping.
I think I like it with the plain yogurt the best.
Dig in, is this breakfast or dessert?
Enjoy!