Easy Bread and Butter Pickles
PCrocker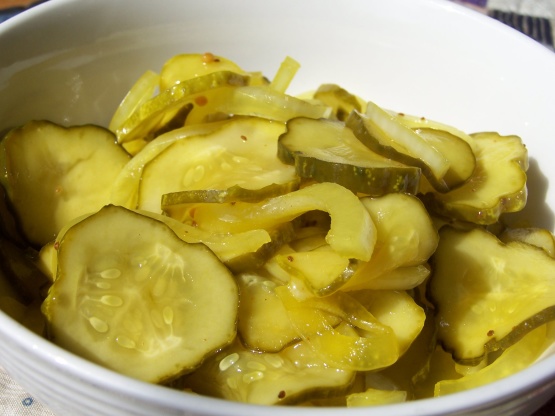 My mother-in-law shared this recipe with me years ago. I make them every summer when our cucumbers start coming out of our garden. These pickles keep for 9 months in the refrigerator but mine never last that long!

I have been browsing this site for recipes for a long time. I finally registered so I could comment on this recipe. It is outstanding. The sugar balances the tartness of the vinegar and is necessary. They are by no means sweet candied pickles. If you like good country pickles these are it. Thanks for posting, PCrocker.
Wash cucumbers and slice thinly.
Peel onions, slice and seperate into rings.
Pack clean gallon jar with layers of cucumbers and onion rings.
In a saucepan, heat remaining ingredients until just boiling.
Pour over cucumbers and onions in jar and cover with lid.
Let cool and refrigerate.
The amount of cucumbers is approximate because the yield is dependent on the size of cucumbers you use.