Easy Blueberry Almond Scones
DeCielo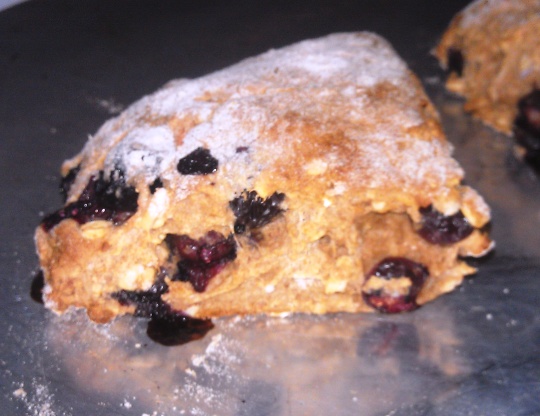 Inspired by Lalalous's Raisin-Cinnamon-Scones With Sesame-Caramel-Chunks, this simple scone recipe is so easy, you can make it in the morning before work! Raspberries work well, too - use almond extract if you're using rapberries! I use frozen berries (the individually frozen kind, not the kind in syrup) for these, and I like my berries, so my scoop of berries is more like a heaping 1/2 cup!

Sooooo Goooood! Life doesn't get easier or better than this scone recipe! I made it with whole wheat pastry flour and almond milk and it was absolutely perfect! It was super easy and only used one bowl! I'm looking for recipes to make during summer vaction where we'll be staying in a rental condo. This is going to be perfect. I can see making the basic recipe with variations on the fruit every day. For me they baked up moist and delicious with just 1/3 cup milk. LOVE THIS RECIPE!
Preheat the oven to 220°C/425°F.
In a bowl mix together flour, oats, baking powder, sugar and vanilla powder (if using vanilla extract, add with milk). Add oil and stir to combine.
Fold in blueberries and almonds.
Add milk (and vanilla extract) and stir to combine. If it is too sticky add more flour, if it is too dry add some more milk.
Pat out dough on a floured surface and cut or shape scones of desired size. I often shape dough into a large circle, and cut into triangles for a traditional shape.
Place on a paper-lined baking sheet and bake for about 15 minutes until baked through and golden brown.